Concrete is a building material that is made by mixing cement, sand, water and ballast. It is usually used for structural purposes but it also has use in decorations and furnishing.
If you are a complete beginner or have no experience with concrete this article will help you get an idea on how to go about making concrete.

The first thing is always to determine the amount of concrete that you need in terms of volume. This is called the dry volume. It occupies a smaller volume compared to the wet concrete that is mixed. The process of mixing concrete elements and placing them is called casting. Where the concrete is mixed with enough water such that it flows, that is called wet casting.

In a concrete mix, the cement reacts with the water and hardens. The sand/smooth aggregate allows for bonding between the fine cement particles and the bigger aggregates forming the hard concrete.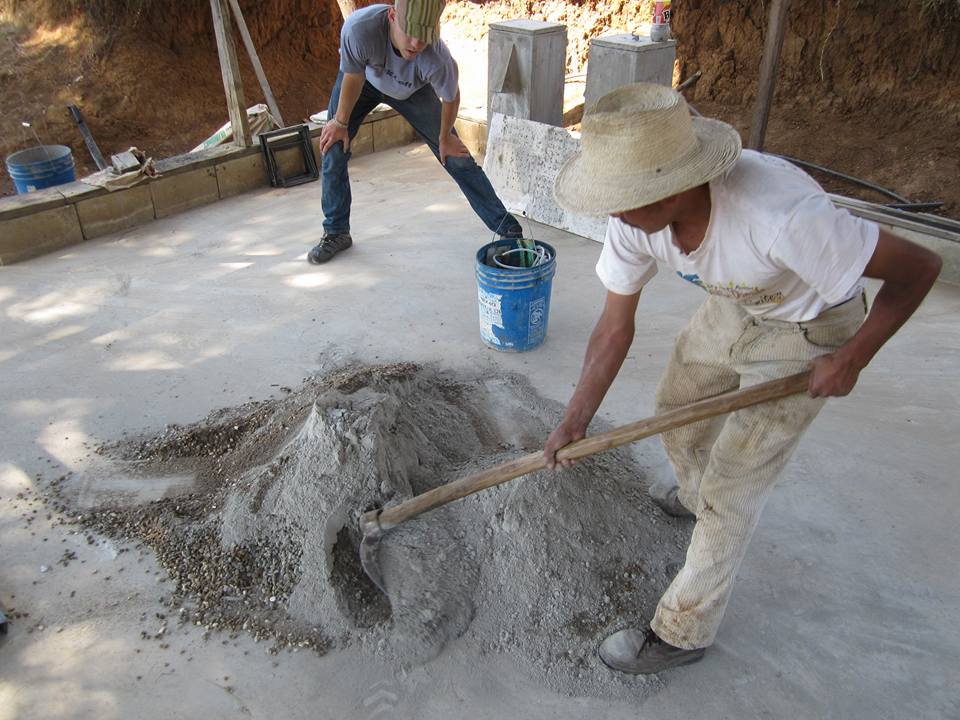 After getting the volume, the next step is called batching. This is where you determine the amount of material you will actually need and the ratios that you will need to mix the constituents in. For structural concrete this is based on a strength that is provided by a structural engineer. For example in Kenya, Class 20 concrete, which means concrete whose compressive strength after 28 days is 28N/mm2, has a mix ratio of 1:2:4. 1 represents the cement, 2 – smooth aggregate/sand and 4 represents the coarse aggregate, ballast.

Batching can either be done in volume or weight. By volume, for 1 part cement, you put 2 parts sand, and 4 parts coarse aggregate. Water is determined on site but the ratio of cement to water is mostly 1:1 -1:2 depending on the level of workability desired. Workability is how free flowing the concrete mix is required to be.

Mixing can be done either by hand or with a mixer. It should be done until the mixture is of consistent texture and colour. The colour is usually a dark grey with a hint of green. This concrete when placed will set depending on the formwork or mould it is placed in. Once it sets and starts hardening, it gains strength continuously over its life with the actual concrete strength taken as the strength it attains after 28 days.

Mixing should be done with clean water and the materials should be free from soil, dirt and organic debris.

Concrete should be continuously cured for the first 7 days to provide water to the hardening reaction. At the end of 7 days, the concrete should have gained 65-70 percent of the strength expected at 28 days, and at 14 days, it should have gained at least 90 percent.

Read here if you need more information on checks during concrete mixing, placing and curing for concrete works. Curious how to batch using weight or volume? Read more on how to calculate the amount of sand, cement, ballast and water required in your concrete mix.

I hope this read has been useful. Build wisely!