Are you interested in purchasing a concrete sink for your kitchen or bathroom? Many homeowners increasingly view concrete as the material of choice for home construction. Sinks made of concrete have gained popularity in recent years. This is because people really like the rugged appearance of the concrete.

You can choose from a variety of finishes for your concrete sink. Some people like a concrete sink with a matte appearance, while others prefer a polished and smooth one. If you enjoy the "industrial appearance," a concrete bathroom sink or kitchen sink is excellent.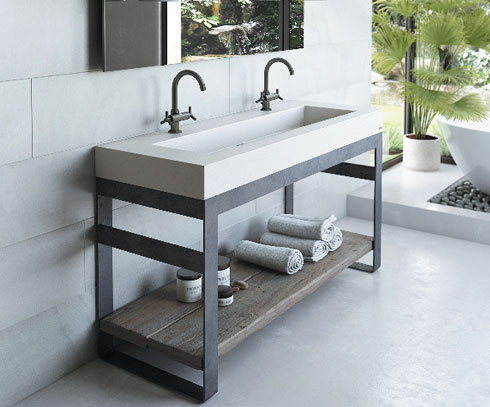 Caring for your Concrete Sink
Concrete's porous surface needs sealing to avoid discoloration and stains. Check with your supplier to check whether your concrete sink is pre-sealed (they usually are). Using urethane epoxy sealers may help prevent sink stains and dampness. There is a concern, however, that urethane epoxy sealer may make your concrete sink seem "plasticy."
Choose a penetrating sealer to retain your sink's natural appearance. These sealants cost more than urethane epoxy sealers but keeping your sink's natural look is worth it.
Concrete sinks need monthly upkeep. Use wax or shine to maintain your sink. You may avoid a sink reseal for 10 years by doing this consistently. Concrete sinks can discolor and stain easily. Acidic foods like vinegar, red wine, or lemon juice may discolor a concrete kitchen sink. If you let them leak into your sink, you'll get stains.
The Pros and Cons of a Concrete Sink
PROS
1. A concrete sink is distinctive. A concrete sink is the best option if you want something unique for your house. You may get concrete sinks in various designs, colors, and finishes to complement your current decor. You may also choose a concrete sink created to your exact size and design specifications.
2. A concrete sink is a much more affordable alternative to granite or marble.
3. Sinks made with concrete need less care. Polishing your concrete sink and applying wax regularly can assist in maintaining its pristine condition.
4. Removing stains or discoloration is simple when concrete sinks are affected.
CONS
1. Cracking is a concern for some homeowners unfamiliar with concrete. Hairline cracks are normal and won't impact the stability of your sink, tub, or vanity top, but bigger cracks might.
2. Concrete is tough and strong, but it won't be as hard as — for instance, granite. Concrete is porous, so you will need to seal it to keep water out and keep it from getting stained or changing color.
Concrete sinks are making waves in the home improvement business, showing up in kitchens and bathrooms throughout America. Beautiful concrete sinks may change your kitchen and bathroom makeover.